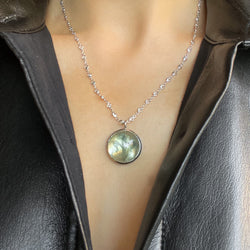 Catherine Angiel
Fleur De Lis Necklace
SKU: 3959/SAPHNECK
Cabochon Fleur De Lis Necklace. 
This special design has a hidden fleur de lis engraved under a hand cut Brazilian green amethyst. It's so cool and mysterious! 
Pendant is sterling silver. Chain is 18kt white gold, with white sapphires, 20". 
This one of a kind necklace is ready to ship!