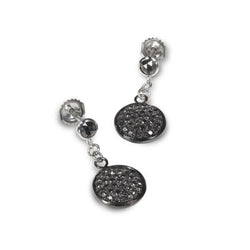 Catherine Angiel
Black Diamond Pave Earrings
SKU: 4119
Black diamond disk earrings 
Stunning and versatile, these black diamond earrings are perfect for day or evening ensembles. Handcrafted with movement showing each diamonds brilliance. These unique designer earrings are for the feminine woman with an edgy twist. 
Shown with .90 carats total weight black diamonds in 14kt white gold.
Also available in alternative metals and colors!