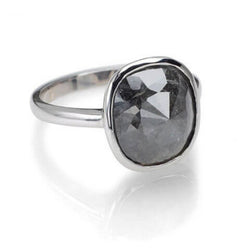 Catherine Angiel
Grey Diamond Ring
SKU: 4126/GGR
Rare grey diamond
Simply set in our handmade bezel ring. The design enhances this grey rose cut diamond's shape and complements its uniqueness. An exquisite non-traditional engagement ring or a fabulous accessory!
Shown with 4.00 carat diamond in 14kt white gold.
Our exclusive engagement ring collection is available in a variety of metals, colors, carat sizes and price ranges. For quotes, virtual appointments, in store appointments, contact us by email or call 212-924-4314. For additional information on this item click the "Inquire Here" button and complete the Jewelry Inquiry Form. Our experienced staff is happy to assist and guide you!