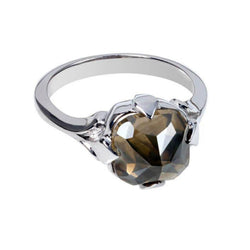 Catherine Angiel
Unique Cognac Diamond Ring
SKU: 3831Smokey/3.50
Smokey diamond
An inverted set cognac diamond with facets on the top, reflects light from every angle. This handmade design is a perfect alternative engagement ring or a fabulous statement ring for every occasion.
Shown with a 3.50 carat cognac diamond in white gold.
This exact ring sold, however you can pre order a new one. The approximate wait time is  3 months due to the rarity of these diamonds.   
Our exclusive engagement ring collection is available in a variety of metals, colors, carat sizes and price ranges. For quotes, virtual appointments, in store appointments, contact us by email or call 212-924-4314. For additional information on this item click the "Inquire Here" button and complete the Jewelry Inquiry Form. Our experienced staff is happy to assist and guide you!