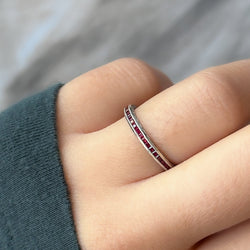 Catherine Angiel
Ruby Band
SKU: 515254
Platinum ruby band.
This ruby eternity band offers a classic look with its timeless design. Its superior craftsmanship is comprised of platinum with delicate engraved detail. It's a perfect wedding ring to wear both alone or layered!  

Available to ship now in platinum with .75 carats total weight in square rubies, finger size 6.
Looking for customizations? We've got you covered! We specialize in custom orders to suit your preferences. Contact us, and we will be more than happy to provide you with our assistance.