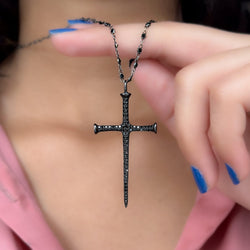 Catherine Angiel
Black Diamond Cross
SKU: 4136/SBP
Signature diamond cross.
Our unique cross is both bold and sophisticated. Black diamonds are delicately set into the silver cross pendant, and black spinel's are set all around the 18kt white gold chain. 
Black rhodium silver cross contains .70 carats total in diamonds. Spinel chain is 18kt white gold, 18" length.
Ready to ship!