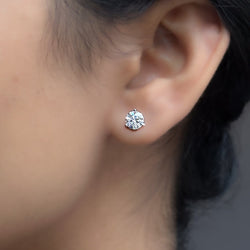 Catherine Angiel
2.00 Carat Diamond Studs
SKU: 741479
2.16 carat lab grown diamond studs. 
These lab grown diamond stud earrings provide an elegant statement with the same level of brilliance and fire as mined diamonds, at a fraction of the cost. Crafted with precision, these lab grown diamonds are sure to add sparkle to any ensemble.ds.
Ready to ship now in 14kt white gold with 2.16 carat total weight lab grown diamonds. D,VVS2. 
Looking for a specific carat size or a metal color? We've got you covered! We specialize in custom orders to suit your preferences. Contact us, and we will be more than happy to provide you with our assistance.