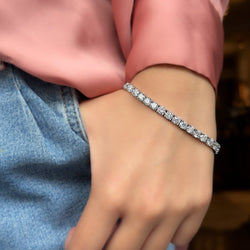 Catherine Angiel
Tennis Bracelet
SKU: 4612186921A
 Lab grown tennis bracelet. 
A timeless classic with a modern twist - this gorgeous lab-grown diamond tennis bracelet exudes sophisticated, elegant luxury. The shimmering diamonds, set in 14kt white gold, are an exquisite showcase of craftsmanship; a stunning accessory for dressing up any outfit. With 15.39 carats of diamonds, this 7" bracelet will add a touch of chic to your jewelry collection!
Looking for a specific carat size or a metal color? We've got you covered! We specialize in custom orders to suit your preferences and budget. Contact us, and we will be more than happy to provide you with our assistance.